Big Rock Construction & Environmental Inc.
Since 2005 18 Years working for you in North Idaho
P.O. BOX 3053 Coeur d' Alene, ID. 83816 Phone 208-661-2635 Idaho Contractors License # RCE-12362
Projects
Construction of Gotham Bay Estates
Photos below show the building of a subdivision after logging has been completed to clear the road ways.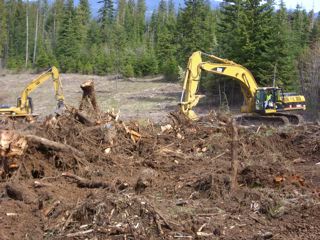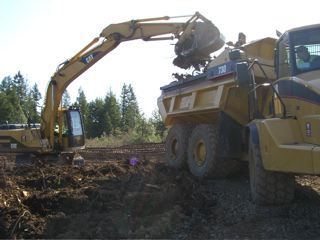 Removing Stumps & Loading Stumps from the roadways.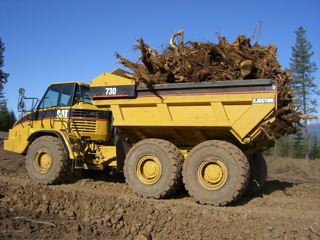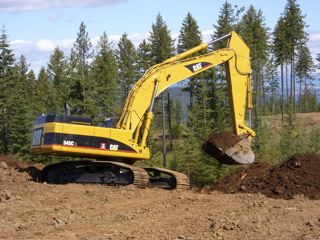 Hauling Stumps in 30 Ton Truck 45 ton Excavator cutting in roadway.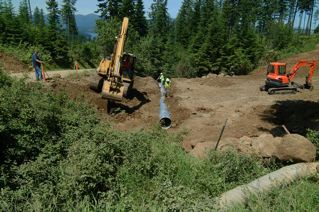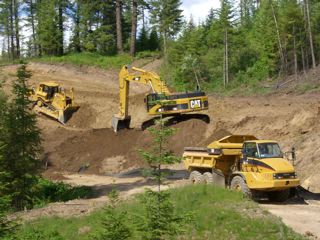 Installing Road Culvert & Preparing grade for road base rock.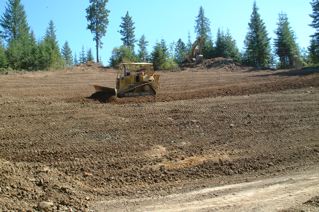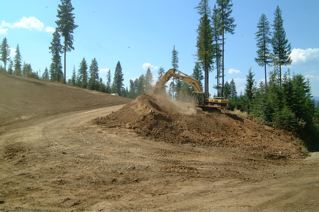 D4 Dozer grading hillside & Excavator cutting in road to grade.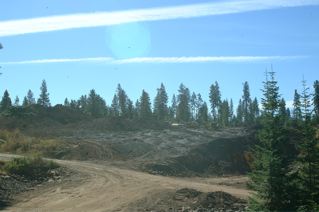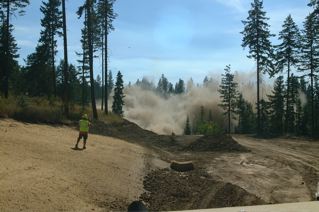 Rock Pit area drilled for blasting • Blasting rock in the pit area.
Rock Pit produced 65,000 tons of rock to build all of our on site roads.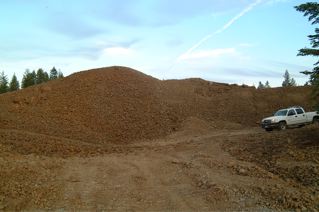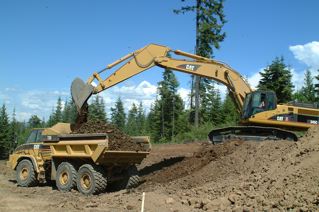 The controlled Blasting piled the Material ready for crushing.
45 ton Excavator loads 30 ton off road haul truck.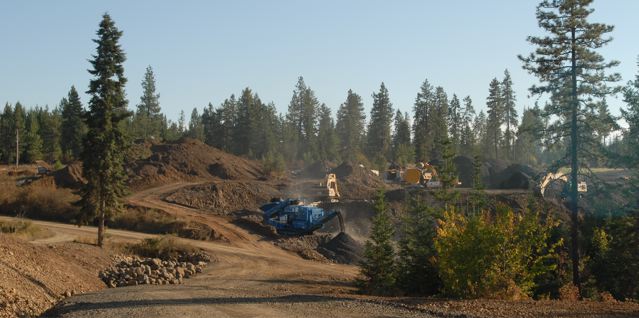 Pit Area in operation, crushing and screening rock to produce
the ballast sub base rock and 3/4 minus base rock for road building.
Crusher plant producing Road Ballast material from Pit.
All rock products used on the roads were produced on site.
Building Gotham Bay Road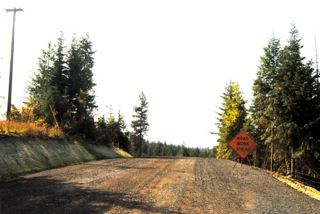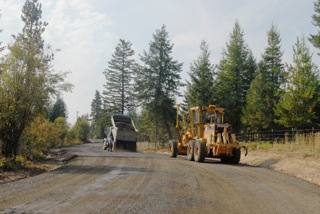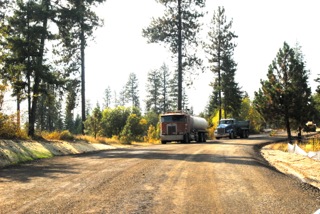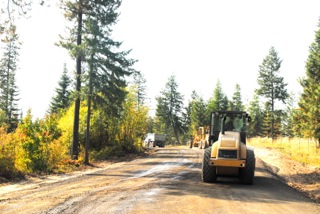 Gotham Bay Road After Paving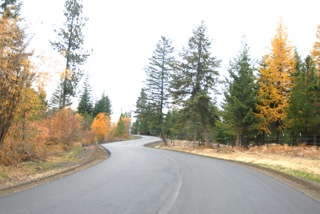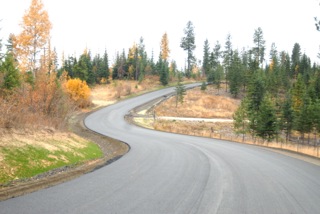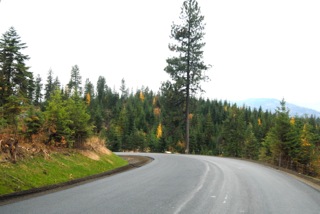 Building a 105,000 gallon water reservoir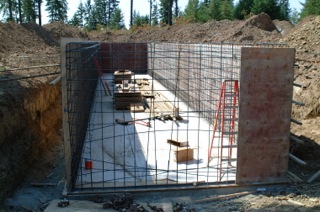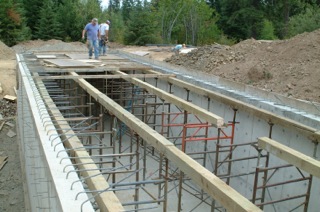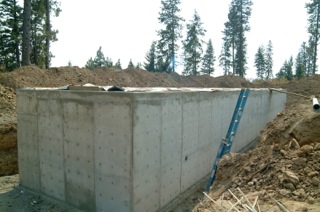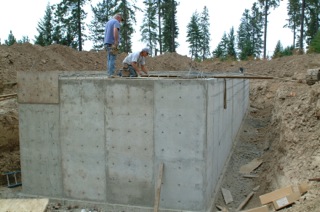 Gotham Bay Estates 105,000 gallon water reservoir

Building A Bridge over Gotham Bay Stream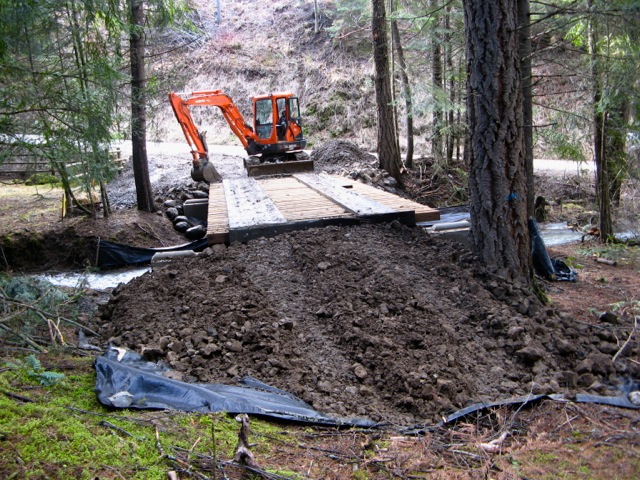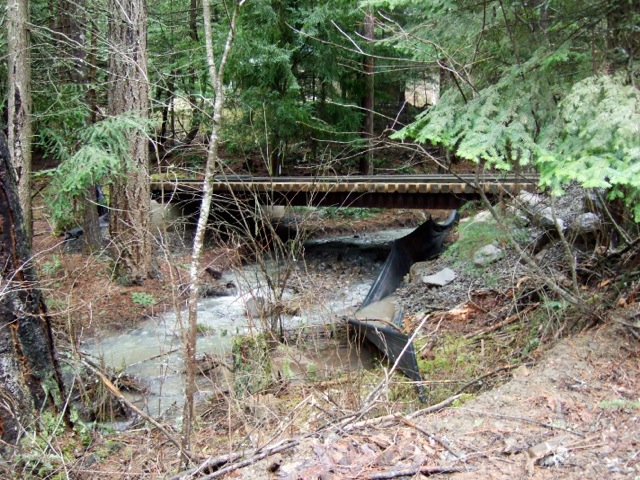 GPS Technology used to
Build Roads Fast & Accurate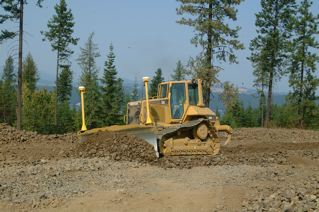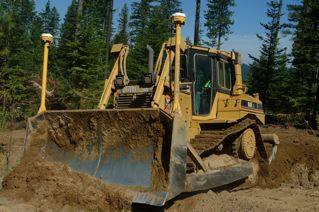 D6R Dozer cutting grade on road with GPS • Cat D8T cutting grade on road with GPS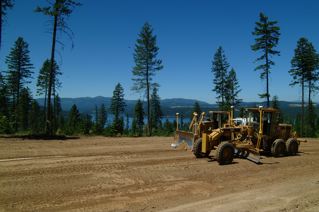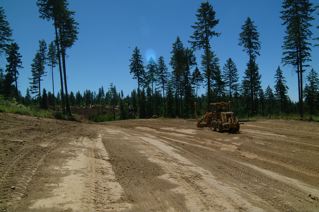 D6R and 160 Grader cutting road to sub-grade. 160 Grader finish grading Kula road with GPS.
The GPS System allows the operator to know where he is on the road, what the cut or fill
is, in order to obtain the proper grade. It will also automatically control the blade to obtain
the proper grade automatically. The next step is to install the ballast rock on the roadway..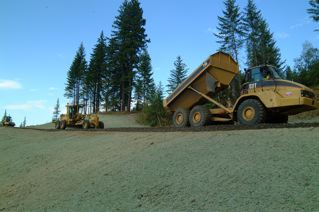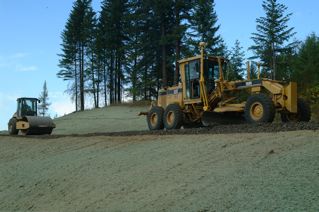 Cat 30 ton off road haul truck spreading 30 Tons of ballast on a road, Cat 160 Grader Grading
Ballast to exact grade 1 foot in depth with GPS, Cat 563 compactor, compacting ballast on Napili Road.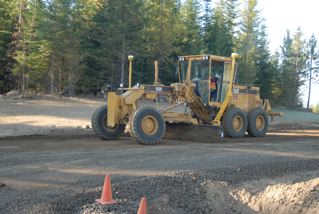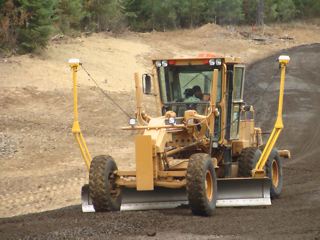 Cat 160H Grader fine grading road with GPS • Cat 160 Grader laying in Ballast on road.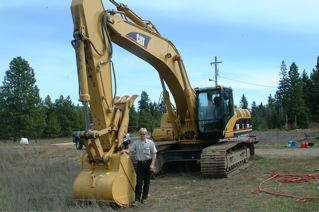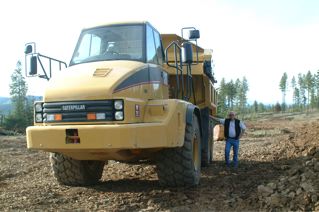 CAT 330 30 Ton Excavator with Eddie • CAT 730, 30 Ton Truck Ivan at the rear.
This shows the size of these machines.
Below are photos of Gotham Bay Estates Views.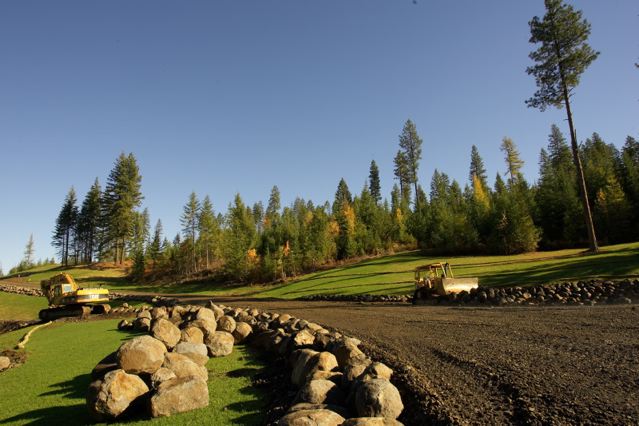 Entrance at Gotham Bay Road and Napili Road.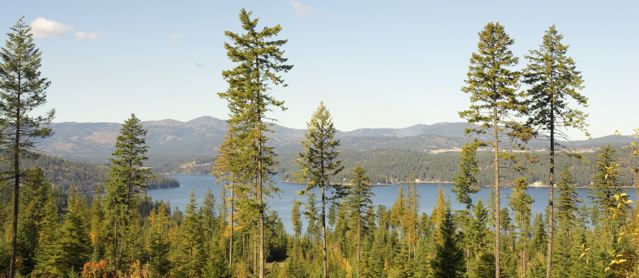 View from lot on Kula Road.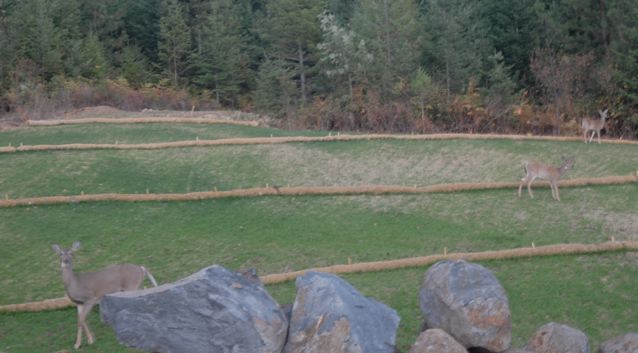 Deer enjoy the new grass on Napili Road bank.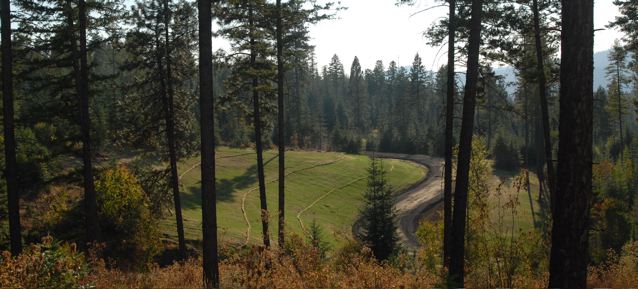 Lahaina Road and Gotham Bay Road Entrance from Kula Road.
Click on this link below
Gotham Bay Estates Coeur d' Alene Lake Idaho 46 Custom Home sites Most with Lake Views
Big Rock Construction & Environmental Inc.
Road Building On our Kula Estates
in Sandpoint, Idaho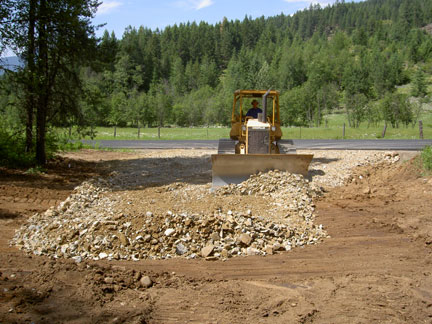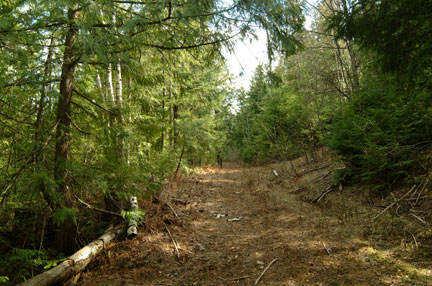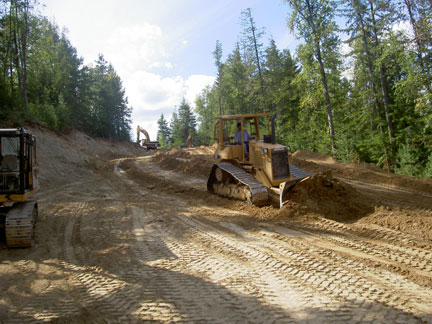 Building Mountain Roads with Cat 330 & 325 Excavators and Cat D4H Dozer cutting road grade.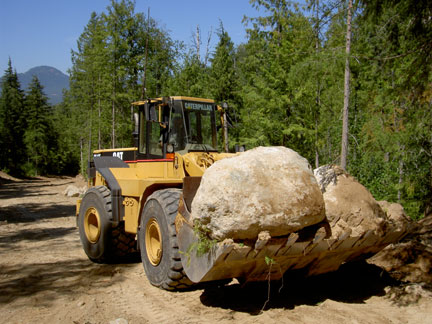 Big Rock Construction & Environmental Inc.
Hydro seeding & Soil Stabilization
Fast & Effective way to establish turf and stabilize banks.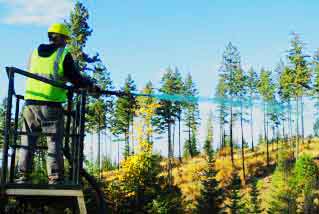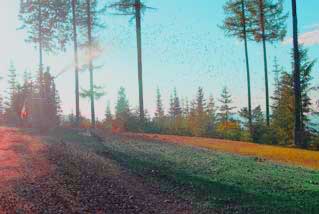 For Information Call: Doug Anderson 208-661-2635
54 Years of Experience.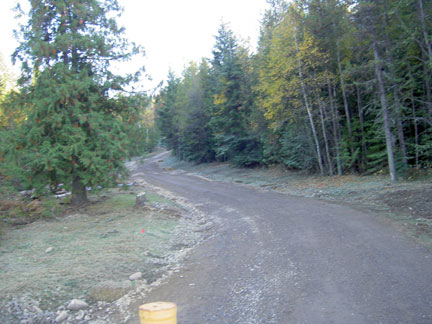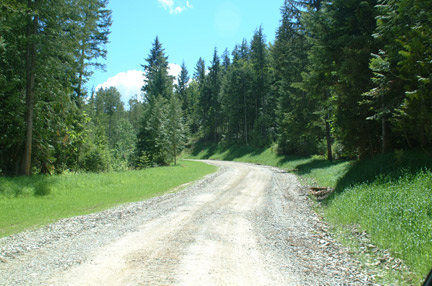 Before and After Photos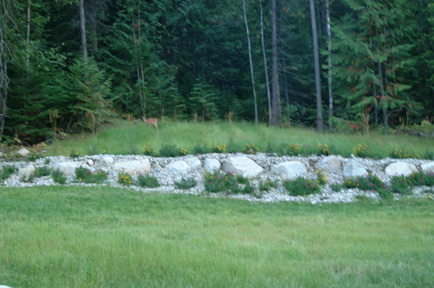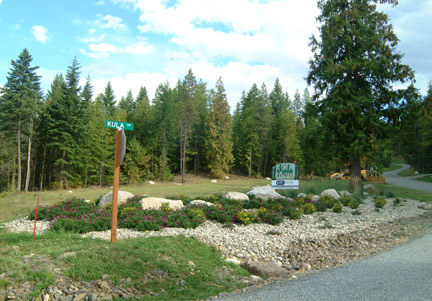 For Information on Grinding Call: Doug Anderson 208-661-2635
Home Equipment Excavation Rock Walls Septic Systems Hydro-Seeding Tree & Brush Grinding Projects Services
Gotham Bay Estates Coeur d' Alene Lake Idaho 46 Custom Home sites Most with Lake Views